Area Rug Cleaning Service
Despite vacuuming regularly, rugs can be damaged by the buildup of dirt and grime. Contractors We Trust's skilled rug cleaning contractors will disinfect and prevent your area rug from long-term wear and tear. With their superior services, they can ensure that your rug looks as good as new for many years to come!
Our network of licensed local professional contractors across the United States provides you with the best custom area rug cleaning services. Using one of our local area's expert rug cleaners can give you the sense of having a brand new rug in your home.
Our trusted and verified area rug cleaning contractor will never leave you unsatisfied. They've years of experience and knowledge to make the job done efficiently. Why are you still waiting? Find your local contractors or contact us online to lighten up your rug.
'Contractors We Trust' Care Instructions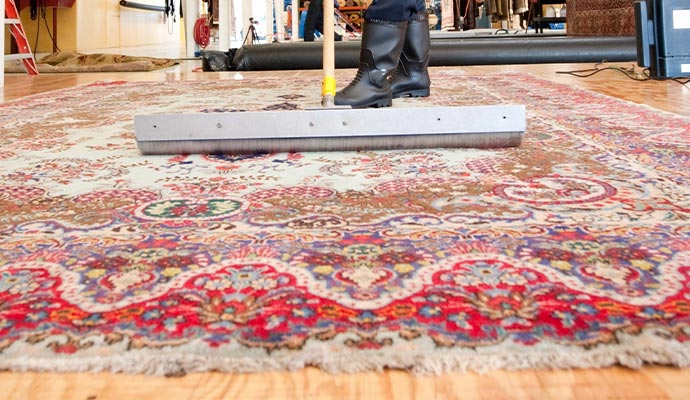 Vacuuming both sides of your rug regularly is essential to maintaining a clean area rug. Even though vacuuming does not completely remove dirt and dust from deep within the rug, it does help to minimize the allergens trapped within the fibers.
In between professional area rug cleanings, vacuuming is sufficient to keep your rugs clean. When it comes to cleaning your area rug, rely on Contractors We Trust's local contractors.
Fading will occur if you place your rug in an environment that is both bright and sunny. Some sun damage can be avoided by using curtains or drapes to block direct sunlight and rotating your rug regularly. Rotating your area rug regularly might assist prevent fading and uneven wear.
The fibers in area rugs can be crushed and dented if heavy furniture is placed on top of them.
Make Your Rug Shine With 'Contractors We Trust'
At Contractors We Trust, we offer a wide variety of rug cleaning methods, all of which are promoted by rug manufacturers as being the safest method for their particular rug type. Contact us today if you'd like to set up an appointment for your rug. Let us know when you'd like to drop it off yourself or have one of our contractors come to you, or you could click here to find your local contractor.